Star Chamber Barn holiday let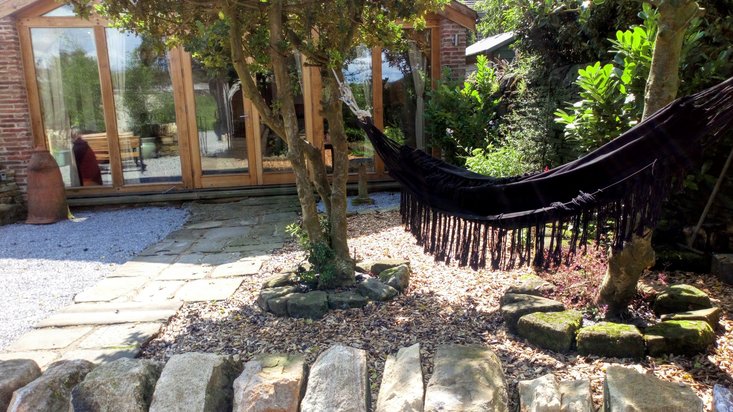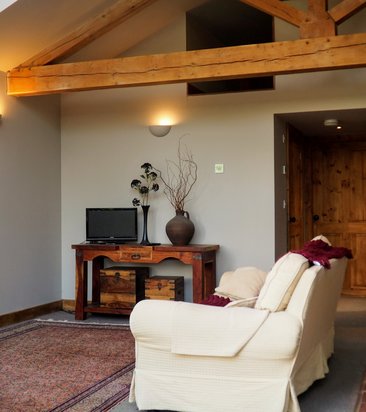 See more photos
Description
~ Luxury Barn Conversion ~ Enclosed Garden ~ Private rural location ~ Firepit ~ Panoramic windows ~ 100% renewable energy - Underfloor heating ~ Dog Friendly - NEW FOR 2021 Oak framed lockable glamping lodge

Hidden away in the heart of the small village of Hepstonhall, Star Barn is a newly converted barn that balances rustic style with contemporary design and next-level comfort. The sunny living area is the heart of the home and especially delightful, with plenty of character courtesy of vaulted ceilings and oak beams, and an abundance of sunlight and rural views thanks to a stunning glass panelled wall. Outside you have your own private garden with a fire pit. This home is especially wonderful for dog owners – not only are four-legged friends welcome, but the garden is totally enclosed and there are plenty of fantastic local dog walks.
Yorkshire Walks
Click here to view this video
Star Barn is on TV! Shanaz Gulzar steps back in time while walking through the historic village of Heptonstall. Filming on her handheld 360-degree selfie-style camera, Shanaz rambles past Hell Hole, along the canal in Hebden Bridge, before climbing uphill to the peace monument of Stoodley Pike. This is an historic walk that straddles both the north and south sides of Calderdale. Inspired by the landscape Shanaz stops to sketch and read poetry. This walk is an intimate and personal account of West Yorkshire viewed through an artist's eyes.
bbc tv
Sleeping arrangements
Two comfortable double bedrooms
Interior layout
All on one floor, there is a huge bright living room with stylish galley kitchen & dining area. A luxury bathroom with a bath and shower is adjacent to the two bedrooms. We have collected unique and interesting pieces to furnish the barn.
Exterior
Built of hand made Yorkshire bricks it has a spectacular oak framed fully glazed gable end with huge double doors opening onto the cottage garden. There is plenty of seating and space outside to find a comfortable corner to relax - there is even a hammock.
Fully insulated and environmentally efficient design with underfloor heating means your stay will be comfortable at any time of the year.

Guests have exclusive use of a traditionally built oak garden lodge. It has seating, a fire pit and is lockable for our guests cycle storage.
Facilities
Fridge
Cooking hob
Oven
Toaster
Kettle
Bath towels provided
Bedding provided
Hair dryer
Iron / Ironing board
Washing machine
Coffee machine

Smoke Detectors

Carbon Monoxide Detector
Smart TV
Internet access
Wifi
BBQ
Private garden
Garden dining furniture
24h check-in available
Free parking
Pets allowed
Bathroom(s) 1
Countryside views
Lockable cycle storage. 5 acres of fields with stable - Equestrian groups with horses welcome. Kadai firepit with cooking tripod.
Great for
Countryside
Secluded
Luxury
Romantic
Accessibility
Whole property wheelchair accessible
The property is all on one level, and is open plan. Vehicles can park directly at the top of the garden path, 10m from the very large double opening front doors. There is a small step through the front doors.
Rules
Lockable cycle storage. 5 acres of fields with stable - Equestrian groups with horses welcome. Kadai firepit with cooking tripod.
Floor plans
Directions
Heptonstall perches 500ft above Hebden Bridge on the main valley road A646. We are 35mins from the M62 motorway, midway between Leeds & Manchester.
Approacing from the north - we are 30 mins from the M65 motorway.

There is a rail station in Hebden Bridge, around 35 mins from either Leeds or Manchester, with frequent buses from the station up to the village.

We are around an hours drive from both Manchester and Leeds Bradford airports.
Parking
We are lucky to have loads of space to park on the property, only metres from your door - a rarity in the village.
Nearby
Garden
Hillside
Landmark
Panoramic
Valley
Heptonstall is a charming village with an amazingly diverse history. The Barn is in the heart of the village, and when you have finished exploring the lanes and the old churchyard there are two welcoming pubs, both serving food. There is also a village post office, a fascinating artisan craft shop to browse and a great little deli too. The local museum (run by our friend Richard) is housed in the old grammar school and contains some fascinating local artifacts.

There are footpaths onto the moors, or down into the beautiful National Trust woodlands at Hardcastle Crags. We are a short drive to Howarth and Bronte country. Below the village is Hebden Bridge. Packed with proudly independent shops and numerous places to eat & drink, it was rightly crowned Best Small Market Town in the Great British High Street Awards in 2016.

The village hosts an annual music festival and well as the famous (and baffling) Pace egg play. We also host the delightful Pennine Spring Music event.
Cycle paths
Hiking
Bar / Pub
Café
Galleries
Museum
Parking
We are on Sustrans Cycle route 68 and the Pennine way. The Calderdale way comes right through the village. Fell running is very popular due to the wealth of pathways across the woodland and moorlands, and we'd love to advise on our favorite routes.
Guestbook reviews
Comfortable clean and in this weather comfortably warm. Situated in lovely part of Yorkshire with plenty of touches to give home from home experience. Welcoming hosts complete an ideal picture.

Yasmin (via Airbnb)
- 05 Jan 2020
Star Chamber Barn holiday let
Anonymous guest
"Lovely barn conversion right in the middle of Heptonstall. Close to ameties whilst still being rural. The place itself was perfect and lovely and quiet. Perfect little escape"
Sian, via Arbnb
- 03 Dec 2019
Star Chamber Barn holiday let
Anonymous guest
Spacious, well set up, very comfortable. We enjoyed being able to bring our puppy!

Emma
Via Booking,com
- 23 Sep 2019
Star Chamber Barn holiday let
Anonymous guest
This stylish Barn did not disappoint; indeed we feel the photographs did not really do it justice. Appreciated the quiet location in this unspoilt village and the outdoor seating was welcome and well used even in September. The beds are very comfortable and the wifi fast and reliable.

Geoff Hercock
Via Airbnb
- 21 Sep 2019
Star Chamber Barn holiday let
Anonymous guest
I booked Star Barn for family members who came to visit. I looked long and hard for accommodation in this area that is dog friendly and all on one level... it is a rare find! Star Barn is a beautiful, peaceful place to stay. The decor is lovely and it is really well equipped. It was spotlessly clean too. Mark and Penelope were really helpful and accommodating but at the same time the barn feels very private. A brilliant base to explore from especially if you are a keen walker. I would not hesitate to recommend Star Barn.

Hannah Musgrave
Via Airbnb.
- 17 Sep 2019
Star Chamber Barn holiday let
Anonymous guest
A beautifully converted barn in a busy village but in a secluded setting. Because of traffic restrictions it is very quiet. A lovely place to recharge without being miles away from amenities. I hope we will be coming back

Elizabeth Sheppard
- 16 Sep 2019
Star Chamber Barn holiday let
Anonymous guest
We cannot fault anything about the Star Barn. Penny and Mark really make you welcome and have provided a fantastic place to stay, well furnished, very clean and lots of thoughtful touches. The outside areas are a real treat with lots of seating areas, a swing chair and a hammock. We really enjoyed toasting marshmallows around the fire pit. There is lots to keep the family entertained in and around this picturesque village, with Hebden Bridge just a short walk away and many attractions within a short drive. We can't wait to go back.

Shelia & Family
(Via Airbnb)
- 23 Aug 2019
Star Chamber Barn holiday let
Anonymous guest
"Location was superb. Very quiet spot just off the main street. Quite tight to manouvre our estate car down the narrow lane but managable. There are no expansive views but the outside space has been made very pleasant and good walks are literally from the doorstep."

Stephanie (via Booking.com)
- 18 Aug 2019
Star Chamber Barn holiday let
Anonymous guest
"A thoroughly enjoyable stay
Friendly hosts; a feeling of spaciousness and comfort; unique furnishings; fascinating location."

Jenny. (via Booking.com)
- 10 Aug 2019
Star Chamber Barn holiday let
Anonymous guest
"The barn and its setting are amazing. The owners, Penny and Mark, were equally amazing. The barn is in the heart of Heptonstall, which is a quintessential Yorkshire village. The barn's glass front is beautiful, so too the various seating areas arranged outside the barn. Inside the barn, everything is open plan with tall ceilings and everything is top quality and was spotlessly clean. To pick just one thing out, the bed and bed linen were exceptional. The owners live behind the barn and run the farm its inside of. They gave us a warm welcome and were very friendly every time we saw them. Between them and the materials in the barn, there is plenty of advice on the local area, walks and places to visit. My walk recommendation is the Hebden Bridge Loop - there is a map for this in the barn and one leg of it starts literally at the farm. We stayed at the barn to sound out Hebden Bridge as a place to live - Hebden bridge is a 20min walk away although (very) steeply up or down hill. There are regular buses and a good taxi service available if you dont want to walk back up the hill. You can of course also bring your car - there is parking by the barn. There are lots of amenities, and great bars and restaurants in Hebden Bridge. The highlight for my partner and I is the Vocation Brewery Tap Room which of course has a great beer selection but also do awesome mexican food. We honestly felt very privileged to get to stay at the barn. I'm sure you'll love it as much as we did."

(Matt. Via Airbnb)
- 09 Aug 2019
Star Chamber Barn holiday let
Anonymous guest
"Beautiful space, spotlessly clean , really comfortable bed. Pretty hilltop village. Perfect location for exploring Hebden Bridge and surrounding countryside on foot from this great barn conversion Would recommend going to see Hepworth Gallery in Wakefield. Brilliant gallery, so easy by train from Hebden. Strongly recommend this great Airbnb. Thank you Mark & Penny, we will be back."

Gavin & Lee (via Airbnb).
- 01 Aug 2019
Star Chamber Barn holiday let
Anonymous guest